Online Master's Degrees and Graduate Certificates
Located in Virginia. Serving the World.
Download a FREE Program Brochure
The brochure includes program details, course information, and more. Get your copy and connect with an admissions representative by completing the following form.
Note: All fields required.
Lifetime Access to Career Services
Flexible Education That Fosters Personal and Professional Achievement
George Mason University offers transformative education that enriches your life and positions you for career success. Here, you can reach your potential in business, health care, social work, and beyond, benefiting from the tremendous flexibility of our online programs.
Forged in 1972, Mason educates ambitious students across the U.S. and the globe, with multiple campuses in Virginia and South Korea. Today, we commit to offering impactful online education in the most in-demand career fields while embracing our culture of innovation, entrepreneurship, and diversity. In fact, Mason is Virginia's most diverse institution.
Our dedication to excellence helped us gain recognition as a top U.S. research institution from the Carnegie Classification of Institutions of Higher Learning. What's more, U.S. News & World Report ranks Mason among the top 150 universities in America.1
Discover the rich online learning experiences available exclusively from Virginia's largest research university. Plus, capitalize on the proven career and advancement achieved by graduates of Mason's online programs.
Mason is home to nearly 10,000 faculty and staff, serving more than 39,000 students
Ranked among the top 20 most innovative schools by U.S. News & World Report1
Named one of the 10 best online colleges for ROI in the master's degree category2
Accredited by the Southern Association of Colleges and Schools Commission on Colleges (SACSCOC)
Find the Online Graduate Program for Your Goals
Seek your master's degree or graduate certificate online with Mason to develop the expertise and practical skills needed to thrive in your desired career field.
48 credits. 33 months.
Mason's AACSB-accredited MBA features innovative coursework that helps you build insight into the technical and human concerns that impact enterprise management, enabling you to thrive in the evolving global market. You can also boost your earning potential, as Mason's online MBA has a proven track record for helping graduates elevate their status and salaries. This program offers an optional Global Residency, providing an opportunity to spend a week studying companies in another country while completing a team project.
30 credits. 18 months.
Prepare to enhance how business and policy leaders make decisions in online courses taught by internationally renowned faculty. Mason's unique approach to economic theory fuses the fields of public choice, Austrian, and experimental economics. This career-focused study of economics helps you build skills and experience for analyzing economic trends impacting government, business, and nonprofit organizations.
30 credits. 21 months.
Harness data analytics to create cultures of innovation, enabling employees to maximize their productivity and performance. You'll take classes taught by renowned innovators in this industry—benefit from their expertise as you prepare to oversee change initiatives that improve company processes, motivate people, and harness transformative technologies.
12 credits. 9 months.
Develop the big data talents that businesses desire through the hands-on application of modeling tools and other techniques. You can pursue this certificate as part of the online MBA or independently.
30 credits. 24 months.
Design and implement courses that help people gain the knowledge and skills needed to improve their performance. Mason's online curriculum instills advanced competencies established by the International Board of Standards for Training, Performance, and Instruction (IBSTPI), preparing you for senior learning design roles. This program also offers an optional E-Learning Graduate Certificate you can attain while seeking your master's degree.
30 credit hours. 24 months.
Learn to create inclusive classrooms and provide lifelong support to learners with disabilities. You can take classes aligning with your desired education specialty by selecting a graduate certificate track in Autism Spectrum Disorders or Applied Behavior Analysis.
30 credits. 24 months.
Prepare to teach English in the U.S. and abroad by seeking an MEd in Curriculum and Instruction with a concentration in Teaching English to Speakers of Other Languages (TESOL). You'll develop expertise in creating inclusive classrooms that consider each English learner's cultural, linguistic, and experiential backgrounds.
18 credit hours. 18 months.
Support the educational needs of learners with autism spectrum disorders in school, home, and community settings. This inclusive program equips you with the expertise to provide enriching education to K-12 students and adults.
21 credit hours. 18 months.
Explore human behavior and empirically validated methods to help students with and without disabilities make behavioral improvements. While pursuing this certificate, you'll take classes that prepare you to seek the Board Certified Behavior Analyst® (BCBA®) credential.†
15 credits. 12 months.
Gain specialized knowledge of the technologies and theories relevant to instructional design and e-learning practices. After finishing this certificate program, you can apply the 15 credits toward the online MS in Learning Design and Technology degree.
30 credits. 18 months.
Prepare to oversee multidisciplinary teams with a laser focus on achieving strategic IT goals. Mason optimized each online course to provide the IT skills that top organizations seek today, helping you become an innovator and leader in the public, private, and nonprofit sectors. This online program enables you to achieve your specific IT ambitions with concentrations in 1) Cyber Security and 2) Data Analytics and Intelligence Methods.
30 credits. 18 months.
Develop the expertise needed for careers specializing in artificial intelligence, machine learning, and big data. Mason's expert faculty will immerse you in coursework focusing on advanced programming, model construction, algorithm analysis, and other innovative competency areas. By graduation, you'll possess technical and problem-solving skills backed by hands-on experience, enabling you to develop groundbreaking software for companies across the tech sector.
30 credits. 24 months.
Develop an innovative mindset for mining and analyzing big data to solve elusive business challenges. You'll develop technical savvy backed by the hands-on experience needed for data science and analysis careers.
12 credits. 12 months.
Learn to glean meaningful information from big data through courses that delve into data mining, management, and modeling, along with methods for visualizing statistics. After finishing this certificate program, you'll have the option to transfer your credits to the master's degree program.
49 credits. 15 courses.
Acquire skills for providing evidence-based primary care to make a bigger difference on behalf of patients in this CCNE-accredited program.* You'll learn from renowned faculty who teach you to understand patient needs and backgrounds for creating treatment plans that fit their lives. Plus, prepare to sit for the American Nurses Credentialing Center (ANCC) and the American Academy of Nurse Practitioners (AANP) exams.**
36 credits. 22 to 28 months.
This online program equips you with the health informatics skills and expertise needed to help improve the quality of patient care. You will take online courses led by expert faculty who teach you to use data analytics and advanced technologies capable of connecting complex medical information to enhance health care delivery. You can focus your education on your career goals by selecting a concentration in Health Data Analytics or Health Informatics Management.
45 credits. 30 months.
Develop the management expertise needed to help make health care more efficient and beneficial to patients as this industry evolves. In this CAHME-accredited program, Mason's experienced faculty will immerse you in an evidence-based curriculum with opportunities for experiential learning, helping you develop the skills to lead teams within health systems.
42 credits. 3 years.
Become a successful global health practitioner and address your community's most pressing health issues with the Council on Education for Public Health (CEPH)-accredited online Master of Public Health, which includes a public health practice concentration. When you finish this hands-on program, you will have completed 200 practicum hours and be eligible to sit for the Certified in Public Health (CPH) examination.
18 credits. 12 months.
Enhance your clinical, health care management, or IT abilities by learning data science methods that can improve patient outcomes and the quality of care. You'll explore data mining, artificial intelligence, and other advanced analytic techniques focusing on gleaning insights from complex data to help solve complex health care challenges.
60 credits. 36 months.
Develop the expertise to advance equity, support social justice, and serve vulnerable populations in your community while seeking your MSW online. You'll take accessible classes that fit your busy schedule and gain hands-on experience through a field practicum. This CSWE-accredited program offers specialized tracks in Children, Youth, and Families (CYF) and Adults and Healthy Aging (AHA).
Bringing Mason to Learners Worldwide
George Mason University is Virginia's largest public research university. Located near Washington, D.C., Mason enrolls more than 39,000 students from 130 countries and 50 states. With online programs that draw from our spirit as a leader in scholarship and research, Mason prepares graduates to succeed in a rapidly changing world.
Request Info
Rigorous Academic Standards. Flexible Online Format.
At Mason, we design online programs to offer innovative experiences that propel your ambitions. Like our students on campus, you'll benefit from our commitment to academic rigor and integrity while learning from the same renowned faculty. And the online format means you can seek an impressive graduate degree or certificate without leaving home, while stationed abroad, and even while traveling. Plus, access advising services online to get the guidance you need to graduate.
Online Courses That Lead to Limitless Possibilities
Discover direct paths for nurturing your talents and increasing your potential with the online graduate programs from George Mason University. We offer a rich array of graduate credentials, instilling knowledge and skills that position you for success in business, health care, education, social work, and other fields. You'll learn from faculty with experience teaching online and working in professional settings, receiving personal mentorship for achieving your goals. Mason builds on the online coursework with experiential lessons, research projects, and practicums that provide hands-on preparation for your career.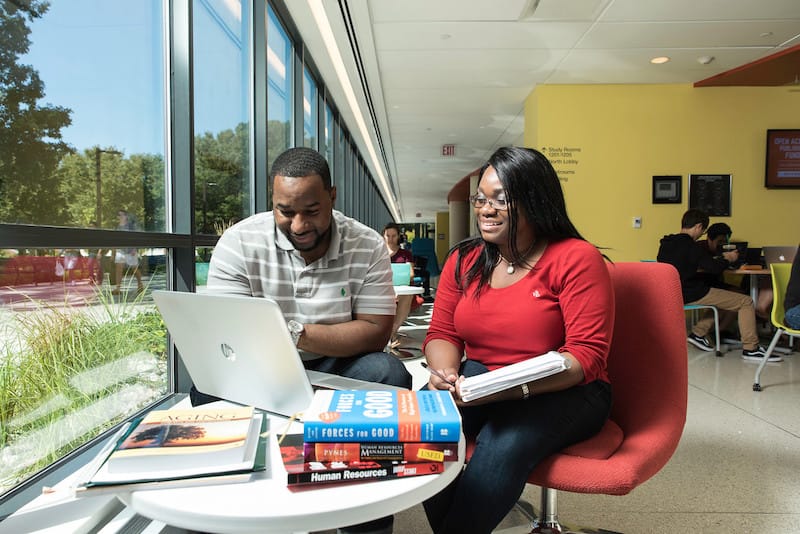 Elevate Your Professional Status and Earning Potential
If you're ready to make a more significant impact in your career, pursuing a graduate credential is the ideal starting point. It's your opportunity to develop the expertise needed to lead in numerous professional sectors and qualify for higher-salary positions. In fact, college graduates increase their pay an average of 18% after attaining a master's degree.3 With Mason's graduate programs, you can prepare to do good for the world while doing well for yourself. Moreover, we offer lifetime access to Mason Career Services to graduates, providing helpful guidance for every stage of your professional life.
In-Demand Careers for Mason Graduates
Computer Network Architect
Data Analyst
Economic Analyst
Family Nurse Practitioner
Information Security Analyst
Medical and Health Services Manager
Social Worker
Special Education Teacher
TESOL Educator
Training and Development Manager
Sources:
U.S. News and World Report. George Mason University Rankings. Retrieved June 22, 2022, from https//www.usnews.com/.
OnlineU. Best Online Master's Programs: Online Master's Degrees with the Highest Return on Investment. Retrieved June 22, 2022, from https://www.onlineu.com/.
U.S. Bureau of Labor Statistics. Employment Projections: Education Pays. Retrieved June 22, 2022, from https://www.bls.gov/.
Professional Licensure Disclosure
This program has been identified by George Mason University as one that may lead to a career requiring professional licensure/certification. Federal regulations require Mason to disclose information as to whether this program meets/does not meet the educational requirements for licensure/certification in your state, or whether such a determination has not been made. Please consult our Licensure Disclosure Tool (https://provost.gmu.edu/licensure) for the disclosure statement specific to your desired state/program combination.
† This program is intended to provide verified coursework for the Board Certified Behavior Analyst® (BCBA®) credential. George Mason University is currently exploring ABA-related licensure opportunities that may exist in your state upon completion of that credential; however, this degree program is not intended to fully prepare students for teaching or ABA licensure in any state. Individual states may have additional requirements for licensure. The Association of Professional Behavior Analysts provides resources on ABA licensure. Students are strongly encouraged to be proactive and verify all licensure information.
At this time, we will not be extending access to the exam for international candidates beyond January 1, 2023. However, we do not look at citizenship status when determining examination access. If a student is currently residing in the US, even if they are here on a student visa, they would still retain their authorization to complete the examination as long as their US address is listed in their BACB account.
The Behavior Analyst Certification Board® has specific degree requirements for eligibility to apply for the BCBA® credential. Visit the BCBA website for more details.
*The MSN–FNP online graduate program is approved to confer a degree in most states in the U.S. but is awaiting full approval from select states. Please confirm your state's approval status.
**The master's degree program in nursing at George Mason University is accredited by the Commission on Collegiate Nursing Education (http://www.ccneaccreditation.org).