Online Graduate Programs in Health Informatics and Data Analytics
Located in Virginia. Serving the World.
Download a FREE Program Brochure
The brochure includes program details, course information, and more. Get your copy and connect with an admissions representative by completing the following form.
Note: All fields required.
Lifetime Access to Career Services
Improve Health Care Quality Through Technology and Data Science
Health informatics specialists mine health data for insights that can improve the quality of patient care. Now, you can prepare for these in-demand careers with the online health informatics graduate programs from George Mason University. We offer master's degree and graduate certificate programs online, enabling you to gain the skills you desire in a flexible format that works best for you.
Mason's expert faculty will teach you to use data analytics and advanced technologies to enhance health care delivery. Through this work, you can arm clinicians, pharmacists, and other health professionals with the data insights needed to strengthen the quality and efficacy of services.
The online MS in Health Informatics offers concentrations in Health Data Analytics and Health Informatics Management, helping focus your education on your career goals.
Discover the rich online learning experiences available exclusively from Virginia's largest research university. Plus, capitalize on the proven career and advancement achieved by graduates of Mason's online programs.
The median salary for health informatics specialists is $99,270 per year1
Recognized as one of the top 25 master's degrees in health informatics2
Placed among the top 10 universities offering master's degrees with the highest return on investment3
Accredited by the Commission on Accreditation for Health Informatics and Information Management Education (CAHIIM)
Career-Aligned Concentrations and Certificate
Mason's online MS in Health Informatics program offers concentrations that put you on track to specialized health informatics roles after graduation. You can also select a graduate certificate to build health informatics expertise on a short-term schedule.
Specialize in harnessing analytics, data science, and machine learning to enhance health care outcomes. You'll take classes that delve into advanced statistics, mining health care data, health data integration, and other analytics concepts.
Gain the knowledge and skills to oversee health information systems, including managing system analysis and design, patient privacy, and an array of statistical analyses. You will also explore the real-world implications of the growing use of electronic health records.
18 credits. 12 months.
Enhance your clinical, health care management, or IT abilities by learning data science methods that can improve patient outcomes and the quality of care. You'll explore data mining, artificial intelligence, and other advanced analytic techniques focusing on gleaning insights from complex data to help solve complex health care challenges.
Bringing Mason to Learners Worldwide
George Mason University is Virginia's largest public research university. Located near Washington, D.C., Mason enrolls more than 39,000 students from 130 countries and 50 states. With online programs that draw from our spirit as a leader in scholarship and research, Mason prepares graduates to succeed in a rapidly changing world.
Request Info
Rigorous Academic Standards. Flexible Online Format.
At Mason, we design online programs to offer innovative experiences that propel your ambitions. Like our students on campus, you'll benefit from our commitment to academic rigor and integrity while learning from the same renowned faculty. And the online format means you can seek an impressive graduate degree or certificate without leaving home, while stationed abroad, and even while traveling. Plus, access advising services online to get the guidance you need to graduate.
Competency-Focused Health Informatics Curriculum
Our expert faculty teach evidence-based courses, helping you develop competencies for careers in health informatics management, health data analytics, and beyond. You'll learn emerging informatics concepts while engaging in a curriculum that Mason regularly updates, helping you keep pace with the innovations reshaping health care and technology. The master's degree requires 36 credits hours, with classes offered in a flexible online format.
Health informatics students can take the following courses: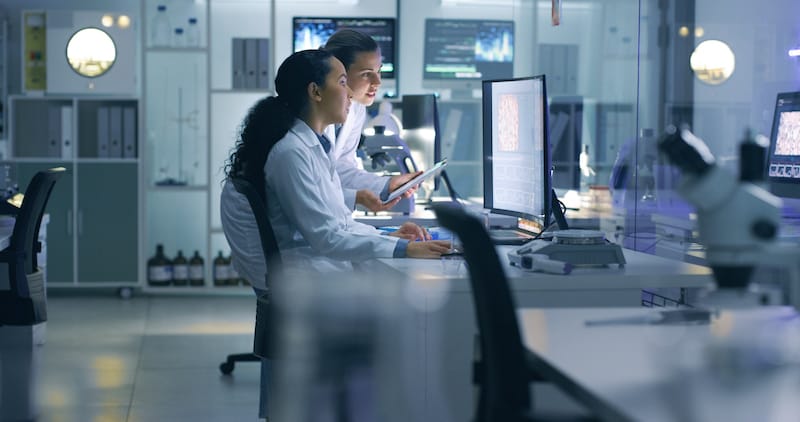 Pursue Informatics Careers Specializing in Improving Health Care
The growth of health care and data science employment is eclipsing nearly every other field.1,4 With Mason's online health informatics programs, you can prepare to unlock insights from complex data or oversee the analytics teams that foster innovation through advancements in health care statistics and information technology.
5 Settings for Health Informatics Professionals
Hospitals, clinics, and health care practices
Health insurance companies
Public-sector organizations
Consulting and software firms
Research institutions
Sources:
O*NET OnLine. Health Informatics Specialists: 15-1211.01. Retrieved June 20, 2022, from https://www.onetonline.org/.
Top Master's in Healthcare Administration. Best Master's Degrees in Health Informatics 2021. Retrieved June 20, 2022, from https://www.topmastersinhealthcare.com/.
OnlineU. Best Online Master's Programs: Online Master's Degrees with the Highest Return on Investment. Retrieved June 20, 2022, from https://www.onlineu.com/.
U.S. Bureau of Labor Statistics. Healthcare Occupations. Retrieved June 20, 2022, from https://www.bls.gov/.