Graduate Programs in Special Education, Autism Spectrum Disorders, and Applied Behavior Analysis
Located in Virginia. Serving the World.
Download a FREE Program Brochure
The brochure includes program details, course information, and more. Get your copy and connect with an admissions representative by completing the following form.
Note: All fields required.
Outcome-Focused Education
Lifetime Access to Career Services
Online Programs That Foster a Lifetime of Inclusive Learning
Develop the educational talents to provide inclusive education through George Mason University's online master's degree and graduate certificate programs. You'll learn evidence-based practices supported by the latest research so that you can enhance the learning experience for students with disabilities. After finishing your program, you'll have the expertise and qualifications to support young and adult students in schools, private practice environments, and even homes.
Mason provides graduate programs that fit your career goals. Seek your Master of Education in Special Education degree with a graduate certificate track in Autism Spectrum Disorders or Applied Behavior Analysis, or pursue each certificate in a standalone program. No matter the option you select, you'll take classes in a flexible online format that fits your busy schedule.
Discover the rich online learning experiences available exclusively from Virginia's largest research university. Plus, capitalize on the proven career and advancement achieved by graduates of Mason's online programs.
The employment of PK-12 special education teachers is projected to increase by 5% from 2021 to 20311
Placed among the Top 10 universities offering master's degrees with the highest return on investment2
Ranked No. 7 on U.S. News & World Report's list of the Best Online Master's in Special Education Programs3
Accredited by the Southern Association of Colleges and Schools Commission on Colleges (SACSCOC)
Special Education Programs That Lead to Your Goals
Mason offers graduate degrees and certificates that enable you to make a difference in specialized areas of special education.
30 credit hours. 24 months.
Learn to create inclusive classrooms and provide lifelong support to learners with disabilities. You can take classes aligning with your desired education specialty by selecting a graduate certificate track in Autism Spectrum Disorders or Applied Behavior Analysis.
15 credit hours. 18 months.
Support the needs of learners with autism spectrum disorders in school, home, and community settings. This inclusive program equips you with the expertise to provide enriching education and services to individuals with ASD across their lifespans.
21 credit hours. 18 months.
Explore human behavior and empirically validated methods to help students with and without disabilities make behavioral improvements. While pursuing this certificate, you'll take classes that prepare you to seek the Board Certified Behavior Analyst® (BCBA®) credential.†
Bringing Mason to Learners Worldwide
George Mason University is Virginia's largest public research university. Located near Washington, D.C., Mason enrolls more than 39,000 students from 130 countries and 50 states. With online programs that draw from our spirit as a leader in scholarship and research, Mason prepares graduates to succeed in a rapidly changing world.
Request Info
Rigorous Academic Standards. Flexible Online Format.
At Mason, we design online programs to offer innovative experiences that propel your ambitions. Like our students on campus, you'll benefit from our commitment to academic rigor and integrity while learning from the same renowned faculty. And the online format means you can seek an impressive graduate degree or certificate without leaving home, while stationed abroad, and even while traveling. Plus, access advising services online to get the guidance you need to graduate.
Student-Centered Special Education Courses
Discover graduate programs in special education that help elevate your capacity for empowering students with disabilities. You'll take online courses led by distinguished faculty with extensive research and professional backgrounds, learning from their experience as you gain specialized expertise in autism spectrum disorders or applied behavior analysis.
Mason's coursework delves into concepts you'll apply during your career, including universal design for learning, interventions for individuals with autism, and conceptual issues in behavior analysis. While you can complete most of Mason's special education programs online, the master's degree may require field experience that provides valuable insights for your career.Paragraphs in this section are regular sized.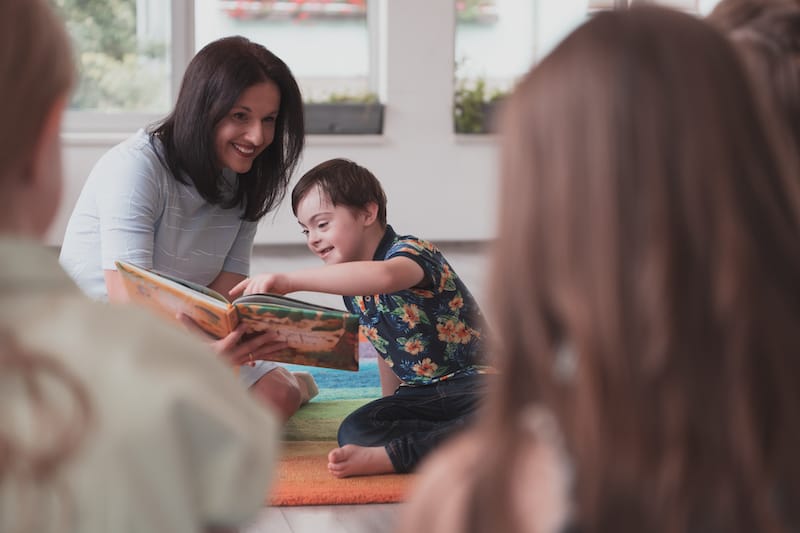 Prepare to Make a Bigger Difference in Your Career
Educators and health professionals now identify disabilities earlier in children's lives, which is expected to increase the demand for special education teachers. In fact, projections show that employers will need nearly 38,000 additional special education teachers each year from 2021 to 2031.1 With Mason's online programs, you can experience advanced training aligning with careers in intervention, psychology, behavioral analysis, and school administration.
Rewarding Careers for Mason Graduates
Special Education Teacher
Child Psychologist
Interventionist
Speech and Language Pathologist
Behavior Analyst
Physical Therapist
Occupational Therapist
Sources
U.S. Bureau of Labor Statistics. Special Education Teachers: Job Outlook. Retrieved September 13, 2022, from https://www.bls.gov/.
OnlineU. Best Online Master's Programs: Online Master's Degrees with the Highest Return on Investment. Retrieved June 14, 2022, from https://www.onlineu.com/.
U.S. News and World Report. George Mason University: Online Programs Rankings. Retrieved June 14, 2022, from https//www.usnews.com/.
Professional Licensure Disclosure & Disclaimers
This program has been identified by George Mason University as one that may lead to a career requiring professional licensure/certification. Federal regulations require Mason to disclose information as to whether this program meets/does not meet the educational requirements for licensure/certification in your state, or whether such a determination has not been made. Please consult our Licensure Disclosure Tool (https://provost.gmu.edu/licensure) for the disclosure statement specific to your desired state/program combination.
Autism Spectrum Disorder – This program is intended to provide advanced study of Autism Spectrum Disorder (ASD). George Mason University is currently exploring autism-specific licensure opportunities that may exist in your state upon completion of the program; however, this degree program is not intended to fully prepare students for teaching licensure in any state. Students are strongly encouraged to be proactive and verify all licensure information.
Applied Behavior Analysis – Completing the George Mason University Verified Course Sequence, along with the appropriate master's degree, supervised experience, and passing the Behavior Analyst Certification Examination™ would result in one earning Board Certified Behavior Analyst™ status from the Behavior Analyst Certification Board™. In addition to Board Certification, many states require state licensure for a Behavior Analyst to practice. Licensure requirements vary from state to state. Please check the Association for Professional Behavior Analysts'™ website to determine whether your state requires licensure, and what the exact requirements for that licensure are. This degree program is not intended to fully prepare students for teaching or ABA licensure in any state.
*At this time, the Behavior Analyst Certification Board™ is offering the Behavior Analyst Certification Examination™ only in English, and only in the United States, Canada, the United Kingdom, and Australia. Students residing in other countries are advised to check with the BACB™ as to specific procedures needed to qualify and sit for the Behavior Analyst Certification Exam™.
**For Certificate Only – The BACB™ has specific degree requirements for eligibility to apply for the BCBA™ credential. Click here for more details.